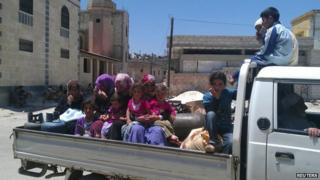 Reuters
The head of the United Nations has warned that civil war is a "real" threat in Syria.
Ban Ki-Moon spoke at a big meeting of the UN Security Council in New York on Thursday night.
Members of the UN decided to meet after the news that nearly 80 people had been killed near the city of Hama in the west of the country.
They say the Syrian government isn't doing enough to stop the fighting.
Kofi Annan, the man who has been trying to bring peace to the country, also told the UN that they need to act together to put pressure on the Syrian government.
But he warned that sending foreign troops into the area would make the fighting worse.
He's been trying to get Syrian president Bashar al-Assad to follow a six point peace plan, which he believes will be the best way to stop the fighting.
So far it has been difficult for the UN to decide on what action to take as two of the most powerful members, China and Russia, don't want to get involved in the conflict.