Uefa president Michel Platini says players at Euro 2012 will be booked if they walk off the pitch due to racial abuse.
Platini insists referees will deal with any racist incidents that occur during the tournament.
Referees will also be given the power to finish a game early if they believe any racist incidents are occurring.
England goalkeeper Joe Hart, 25, said he agreed with Uefa's plans.
Manchester City's Hart said: "We have discussed it and we will get on with it and let the referees and Uefa deal with it.
"It is not for us to walk off the pitch if that problem does occur and, fingers crossed, it won't happen."
The possibility of trouble was highlighted in a recent BBC programme which showed incidents at grounds in Poland and Ukraine, who co-host Euro 2012.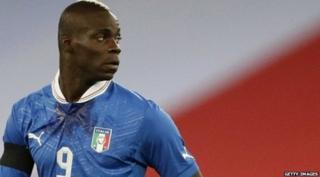 Getty Images
Former England defender Sol Campbell has already warned fans to stay away from Euro 2012.
But Uefa, European football's governing body, said awarding the tournament to Poland and Ukraine was a chance to tackle major problems like racism.
It said the tournament would allow both countries to improve their image.