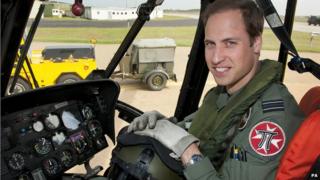 PA
Prince William has qualified as a Royal Air Force search and rescue captain, it has been announced.
The Duke of Cambridge completed two days of high-level tests on 29 May.
The announcement said: "Flight Lieutenant Wales, as the Duke is known in the military, will now command search and rescue operations in RAF Sea King helicopters."
Up to now, William has been a co-pilot on the flights in No 22 Squadron at RAF Valley in Anglesey, north Wales.
Wing Commander Mark Dunlop, one of the prince's senior officers, said: "Flt Lt Wales demonstrated the required standards needed for the award of Operation Captaincy."
He added: "Due to the nature of search and rescue operations, the required standards are always set at a very high level."
Being the captain of a rescue operation means being in charge of the helicopter, the crew, and any people they rescue.