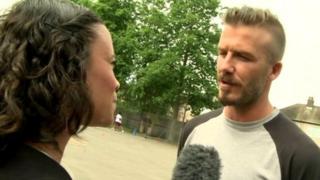 Beckham tells fans to 'stay safe'
David Beckham has told Newsround that England fans are "amazing" but need to stay safe if they travel to the Euros.
The number of England fans going to the European Championships will be at an all time low for the 2012 tournament.
Matches start this week in Ukraine and Poland but worries about racism and violence in the countries are putting fans off supporting England abroad.
Some England players have been warning fans to stay away but Beckham says they just need to be sensible.