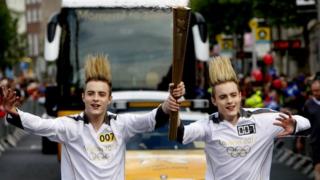 Jedward carry the Olympic torch
Our favourite pop twins Jedward have taken part in the Olympic torch relay, as it travels through the Republic of Ireland.
John and Edward Grimes styled their hair to look like flames as they carried the torch through Dublin.
The pair were tweeting all morning about the event saying, "I wonder if we will be the first people carrying the Olympic torch that actually look like the Olympic torch?"
With all the spray and styling products they must've used, it's a good job they kept the flame away from their vertical hair!