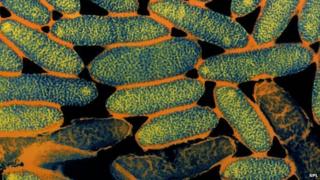 SPL
A man in Edinburgh has died after catching Legionnaires' disease.
The man who died also had other health conditions, but at least 21 people in the same area are also confirmed to have the lung disease.
Dr Duncan McCormick from NHS Lothian said people shouldn't worry, adding: "I would like to reassure the public that household water supplies are safe."
Legionnaires' disease comes from Legionella bacteria which grows in water in rivers and lakes.
The bacteria sometimes - but not often - ends up in water cooling towers or air conditioning machines.
How can Legionnaires' disease be caught?
If people breathe in the water droplets which contain the bacteria, they may get headaches, muscle pain, fever, coughs, or have an upset stomach.
But the disease can't be caught from drinking water, or from person to person. It can be treated with antibiotics.
Dr McCormick said that anyone in the area who was worried they might have the symptoms should contact their doctor.
Health experts think this outbreak has been caused by water around industrial cooling towers near Edinburgh, and say the risk to the public is low.
The towers - near the Dalry, Gorgie and Saughton areas - have now been treated with chemicals to kill the bacteria.