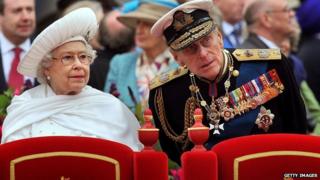 Getty Images
The Queen's husband The Duke of Edinburgh has "improved considerably" after being treated in hospital for an infection, say Buckingham Palace staff.
Prince Philip, who'll be 91 on Sunday, was forced to miss Monday's concert and Tuesday's carriage procession.
His son Prince Edward said, "He's getting better, he just needs some rest."
The Duke was said to be disappointed at missing the Diamond Jubilee celebrations, but watched them on TV.
He will remain in hospital being watched by doctors for a few more days.