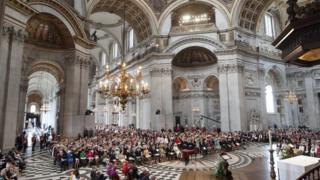 AP
The Queen has attended a religious service to mark her 60-year reign.
It took place at St Paul's Cathedral in London with the Archbishop of Canterbury giving a talk.
Children and young people led prayers for the Queen, and a special children's Diamond Choir sang the music.
But the Queen's husband, the Duke of Edinburgh, was not beside her.
He is still in hospital after getting an infection on Monday.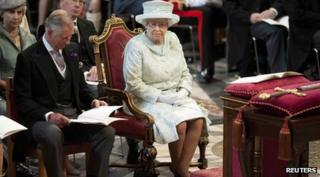 Reuters
The Archbishop of Canterbury, who is the most senior member of the Church of England, praised the Queen's dedication.
After the service the Queen was taken to a lunch in Westminster and cheered on through the streets by the crowds.
At the lunch she was entertained by members of the National Children's Orchestra.