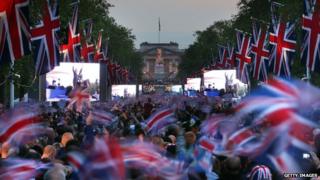 Getty Images
We asked what you enjoyed most about the four-day Diamond Jubilee weekend.
Some of you loved the concert outside Buckingham Palace, others had their own street parties.
One or two people in other countries emailed us too!
Thanks for all your comments.
Here's what some of you told us:
"I watched the Jubilee celebrations on TV and the best of all was the balcony."
Aleen, Bristol, England
"I loved the concert. It was cool how Madness sung on top of the palace! They're my favourite band!"
Ishbel, Dundee, Scotland
"I had a tea party with my family and I made some Jubilee cupcakes which were gone within minutes!"
Grace, Birmingham, England
"My favourite bit was where our village beacon was lit."
Matilda, Bradford-on-Avon, England
"My family and I went into London to watch the Queen's carriage parade. It was amazing!! All the horses and guards looked so smart and polished. There were loads of marching bands as well which entertained us whilst we were waiting for the Queen."
Katherine, Surrey, England
"I went to swimming lessons with my English flag bathing suit on. Me and my parents wore English shirts all weekend and we watched the Jubilee on TV. I was born in England but now I live in America."
George, USA
"My best Jubilee moment was at school. We had a huge party and had crisps, sweets and we ate lunch outside. We also got to bury a time capsule."
Sofiya, England
"We had a huge street party, I ran the face painting stall - it was so much fun! We had music playing and me and my friends played basketball in the rain!"
Roya, London, England
"I had a party with school on Friday 1st June and on Saturday me, my family and Nanny and Grandad had a party."
Jane, Suffolk, England
"At school we had to dress up in either red, blue or white. We also did a small toast to Her Majesty The Queen with our apple juice! It was great fun, but unfortunately we had to go to school because we don't live in England!"
Nikki, Dumfries and Galloway, Scotland
"Yesterday me and my sister had a Jubilee party! Our whole dining area was covered in Union Jacks - jubilicious!"
Althea, England
"I went up to London and saw the concert. Did you know the Queen was wearing earplugs?"
Lola, Portsmouth, England
"I saw the Queen and she waved at me. I was so pleased the Diamond Jubilee was in the holiday!"
Joshua, London, England
"I liked it when I saw the Queen coming in the carriage and I also saw the Queen going into Buckingham Palace. It was exciting."
Zeba, London, England
"I loved our concert in St Ives Cambridgshire. My friends were on telly!"
Aimee, Cambridgeshire, England
"It was when I watched the Queen arrive in her boat."
Matharsika, Hayes, England
"My favourite bit of the Jubilee was going to see the concert in London. It was great!"
Lewis, Sheffield, England
"My greatest moment was our BBQ... and I watched the concert on television."
Sarah, Manchester, England
"My favourite part of the Jubilee was the Reigate Priory Festival."
Georgina, Surrey, England
"My favourite Jubilee moment was at school. We had a huge party and we all got gifts at the end, a great way to end the school half term and celebrate the Diamond Jubilee!"
Lydia, Doncaster, England
"I went to see Pixie Lott for a Jubilee concert, had a picnic in the park and had celebrations all day long at school including a hat parade which I won!"
Molly, Bristol, England
"I enjoyed seeing the Titchfield beacon being lit! It was cold but a live band was playing and the atmosphere was great! I also enjoyed having a school street party on Friday! We had a whole school conga!!!"
Annabel, Hampshire, England
"I went to Buckingham Palace and saw my picture live on the building."
Priyangaa, London, England
"I went to Tower Bridge and actually saw the Queen with my 2 eyes!!"
Abdul, London, England
"My best moment is when Jessie J came onto the stage."
Sara, London, England
"We went to a Jubilee Fair on Saturday, went to a music festival yesterday, then watched our local beacon being lit and now we are going to a BBQ Street Party!"
Catherine and Sarah, Cambridgeshire, England