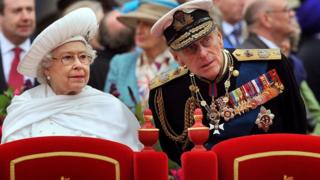 Getty Images
The Duke of Edinburgh is recovering well from a bladder infection, according to his son, The Earl of Wessex.
Prince Philip, who is 90, was forced to miss the weekend's Jubilee celebrations because he was in hospital.
Prince Edward said, "He's getting better, he just needs some rest."
The Duke is said to be very disappointed at missing Monday night's concert outside the palace but he has been watching the Jubilee on TV.
He will remain in hospital under observation for a few days. He turns 91 this Sunday.