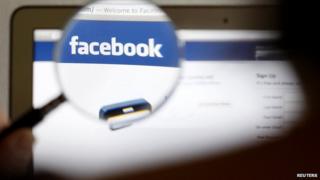 Reuters
Facebook may soon allow children younger than 13 to access the site if supervised by their parents, according to a US newspaper.
The giant company is developing technology to link children's and parents' accounts together, says the Wall Street Journal.
It also claims parents could be allowed to control which friends can be added by their children.
At the moment, under-13s are banned from joining Facebook.
The main reasons are cyberbullying, content that isn't appropriate for children, and risks of contacting strangers on the internet.
Surveys say under-13s already use Facebook
Since 2010, several different surveys have been done to look at the age of Facebook users around the world.
The surveys revealed millions of under-13s already use it, some with their parents' knowledge.
Facebook say they're aware of this, and the site has a page to help parents educate their children about going online.
A spokesperson said children's safety had always been extremely important to the people who run the site.
In February Newsround spoke to Simon Pollard from the Club Penguin website.
He offered us his top five tips for staying safe online.