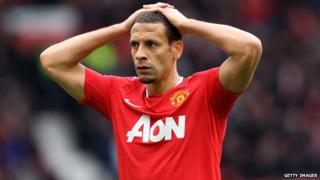 Getty Images
Rio Ferdinand's agent Jamie Moralee has called the decision not to call-up the Manchester United defender to the England squad 'disgraceful'.
Moralee made the comments after Martin Kelly was drafted in to the squad for the injured Gary Cahill.
"To treat a player that has captained and served his country 81 times (in this manner) is nothing short of disgraceful" said Moralee.
"Total lack of respect from Hodgson and the FA" he added.
England manager Roy Hodgson has previously stated that Ferdinand had missed out on selection because of 'footballing reasons.'
But the defender took to Twitter after it was revealed he would not be asked to replace Cahill, writing: "What reasons?????!!!"
The inclusion of Martin Kelly now means there are six Liverpool players in the squad, more than any other Premier League side.
England play their first game of the tournament against France on 11 June.