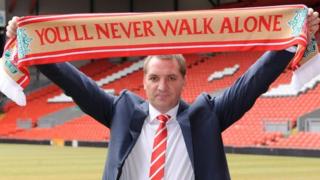 Getty Images
New Liverpool manager Brendan Rodgers says he'll "fight for his life" to bring success and the Premier League title back to Anfield.
Liverpool have won the league 18 times but the last time they were crowned champions was over twenty years ago.
Rodgers also admitted that the club might not be ready for the title straight away but will start working towards that goal immediately.
Some Liverpool fans were unhappy he got the job but he says he'll win them over.
Brendan Rodgers wasn't the only person lined up for the Liverpool job.
But the owners of the club say he was the first choice and the right choice.