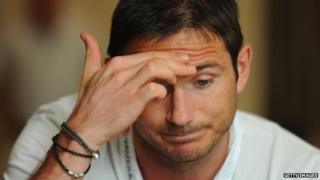 Getty Images
England's Frank Lampard has been ruled out of Euro 2012 with a thigh injury.
The injury leaves the door open for Liverpool midfielder Jordan Henderson to be called into the squad.
England manager Roy Hodgson said: "It's a huge blow for the team, especially coming after the loss of another senior player in Gareth Barry."
Lampard will be really upset because this will probably be his last chance to play in a major international tournament.