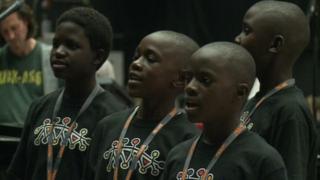 African choir sing for Queen
A group of children from some of the poorest villages in the world have arrived in the UK to sing in front of the Queen.
They've come all the way from Kenya and Uganda in Africa to perform at Buckingham Palace for the Queen's Jubilee concert next week.
And she's not the only famous person to appreciate their singing.
The song they're performing has been written by Gary Barlow who personally chose them for this event.
Leah went along to meet them.
More news stories