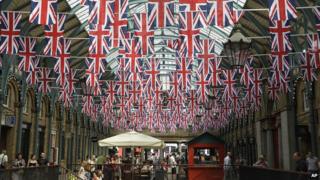 AP
It's the Jubilee weekend so if you're stuck for ideas on what to do and how to celebrate, here's Newsround's top suggestions:
Join in the Jubilee fun wherever you are and pop along to a local street party with friends or family. If the weather's nice why not have a picnic or BBQ.

The Queen will be at the Epsom Derby on Saturday afternoon but if you can't be there why not catch all the action on BBC 1.

There'll also be a 21-gun salute at Edinburgh Castle marking the Jubilee!

On the Sunday 1,000 boats from all around the world will take part in a giant flotilla - it's called the Thames Diamond Jubilee Pageant. The Queen will travel in the Royal Barge at the front of the procession.

Thanks to Gary Barlow the Queen will be watching the likes of Elton John and Kylie Minogue at Buckingham Palace on Monday 4 June. Feel like you're there too and watch on BBC 1 at 7.30pm.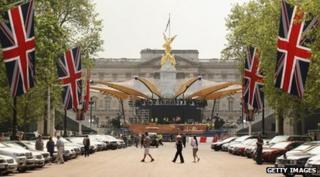 Getty Images
Why not watch one of the 4,000 beacons being lit across the country. They'll be lit between 10-11pm on Monday 4 June all over the UK.

On Tuesday 5 June there'll be a service of Thanksgiving at St. Paul's Cathedral, this will be followed by a carriage procession where all the members of the Royal Family will be celebrating the Queen's Diamond Jubilee. Watch it on TV or perhaps go to a service near you.

Or you could get arty and get to an art gallery. There are some fab pictures of the Queen at the National Portrait Gallery in London and in Liverpool you could get creative and make your very own crown at the Walker Gallery.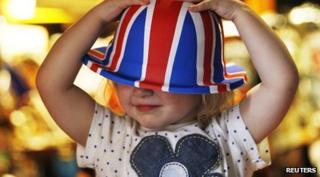 Reuters
Have your own high tea party, or fancy dress do, where you and your friends dress up as members of the royal family. You could also bake some yummy cakes to have at tea time!

Also on Tuesday the Royal Family will be perched on the balcony of Buckingham Palace to watch the special RAF flypast and rifle salute. Big screens in towns and cities throughout the country will show live footage.