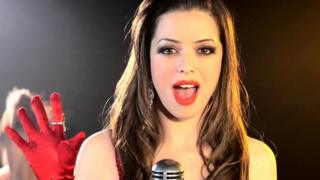 Tina is no stranger to the music scene - ten years ago she starred in a CBBC series called Viva S Club and her band had eleven top 5 hits.
Now she's stepping out alone after almost a decade working on her individual style, so will "Fire" set the charts alight?
What does it sound like?
The song starts off mysterious and orchestral, almost like a James Bond theme but before long the electronic bass kicks in.
"The actual melody is quite souly", Tina told Newsround, "but I wanted something you can really dance to."
She purrs her way through the verses and growls the choruses with her unique vocals.
Will you still be humming it next week?
Fire has a very catchy chorus and you hear something new in the mix every time.
It's familiar, like a Lady Gaga dance floor filler but isn't quite like anything out there at the moment.
The memorable chorus has lots of "oohs". Pop songs are always better with lots of "oohs" - you can't help but join in.
Will it make the charts?
The song has attracted lot of attention online and Tina has a following of very loyal fans (called Tina's Tigers!)
Fire could be heating up the charts soon.
When's it out?
Fire is out on 6 August.
NR rating: 4 out of 5