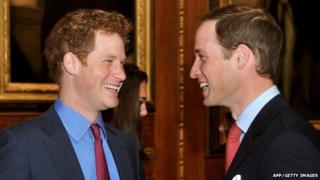 AFP/getty images
Prince Harry and his brother William have appeared on US TV talking about their grandmother, the Queen, and how much they miss their mum.
In a special Jubilee interview Harry praised the Queen for coping with so much during her 60 years on the throne.
He also said she was a "very normal", and "very relaxed" gran.
Prince William revealed it was "very difficult" not having his mother Princess Diana at his wedding last year.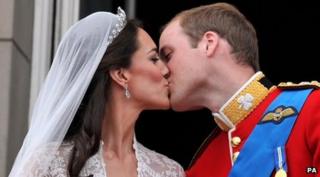 PA
He recalled: "It's the one time since she's died, where I've… thought to myself it would be fantastic if she was here."
"I was sort of mentally prepared so I didn't want any wobbly lips or anything going on."
"I'm just very sad that she's never going to get a chance to meet Kate."
Jubilee celebrations
Both Princes have been heavily involved with the celebrations for the Queen's diamond jubilee.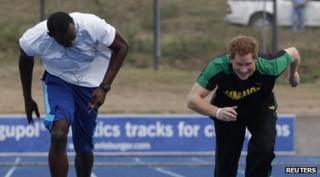 Reuters
Harry recently toured the Commonwealth countries of Belize, Jamaica and the Bahamas.
The 27-year-old said it taught him a lot about the responsibility his gran has.
"This tour itself has been a brief insight as to what she had to deal with at a very young age.
"You can see it in her face now, you can see it in the way she parades herself. It's just so immaculate, she's learnt from all the years of experience basically."
Taking the Queen for granted
He revealed it was very easy to take her for granted when he was younger.
Harry said: "She was just a grandmother to us."
"It's only really been over the last 5, 8 to 10 years that I've actually really started to learn to understand and accept the huge deal that she is around the world."
He and Prince William were speaking in an interview with US broadcaster ABC, ahead of the Queen's Diamond Jubilee.
"She's managed to get the family to move with the times and I think that's incredibly important. You can't get stuck in an old age situation when everything else around you is changing."
The Queen became monarch at the age of 25 when her father, King George VI, died in 1952.