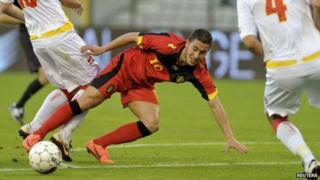 Reuters
He's the player everyone's talking about- Belgian football star Eden Hazard.
Well it looks like he'll be joining Chelsea this summer. The 21-year-old, who was also linked with both Manchester clubs, announced the news on Twitter.
There's been no official confirmation from Stamford Bridge or his current club Lille, but the fee's thought to be more than £30 million.
Hazard is known for his pace, his power and his dribbling skills.