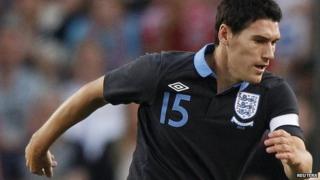 Reuters
Gareth Barry's been ruled out of Euro 2012 because of a groin injury, the Football Association has confirmed.
The England midfielder, 31, had a scan earlier on Monday, and has been told he won't play in Poland and Ukraine.
"I'm very disappointed to lose Gareth," said England boss Roy Hodgson.
"I'm sure he will still have a part to play with England after the Euros."
Hodgson has called up Everton defender Phil Jagielka to replace Barry.
England's final 23-man squad for Poland and Ukraine must be submitted to Uefa by midday on Tuesday.
Barry, who's played for England more than 50 times only managed to play less than 30 minutes in England's 1-0 win over Norway on Saturday.