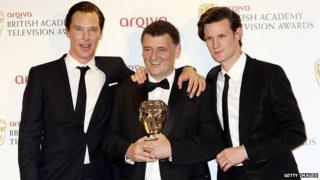 Getty Images
Doctor Who star Matt Smith presented an award to the writer of the hit show at the Bafta TV awards ceremony.
Steven Moffat, who's also the producer of BBC1's hit drama Sherlock, won the Special Award for his creative writing.
"A special award! So thrilled by this - especially after two years of Sherlock and Doctor Who, my two favourite shows ever," Moffat said.
He said that they were "the two best things the British have ever given to the world."
Andrew Scott won Best Supporting Actor for his role as dastardly villain Moriarty in Sherlock, beating his co-star Martin Freeman who plays Dr Watson.
But Mr Holmes himself, Benedict Cumberbatch missed out on the Best Actor award.
The British Academy of Film and Television Arts celebrate the best programs on the box every year.
Others winners on the night included The Young Apprentice and the BBC for its coverage of the Royal Wedding.