Former England defender Sol Campbell has told fans not to go to the European Championships this summer, because it is too dangerous.
The 37-year-old says racism and football violence are too common in Ukraine and Poland.
He's told fans: "Stay home and watch it on the TV."
The families of two England players, Theo Walcott and Alex Oxlade-Chamberlain, have reportedly already said they won't be going.
Walcott's brother tweeted that he and his father wouldn't be flying out because of "possible racist attacks".
The Football Supporters' Federation have told fans that do decide to go, to take care while they are there.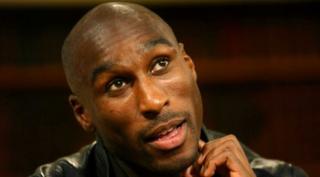 England players have suffered from racist abuse in Eastern Europe before.
Last year Manchester United star Ashley Young was abused during a match in Bulgaria, while Croatian fans directed monkey chants towards Emile Heskey in 2008.
Uefa, who are in charge of Euro 2012, have said they will not tolerate any racist abuse.
"We have a zero tolerance approach and ultimately the referee has the power to stop the match should racist incidents occur," they said.