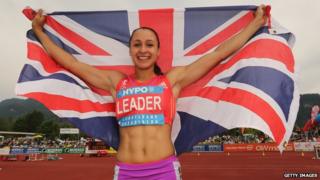 Getty Images
Jessica Ennis has set a new British record in the heptathlon, as she continues her preperations for the Olympics this summer.
The 26-year-old scored 6,906 points, beating the old record set by Denise Lewis in 2000, by 75 points.
Ennis achieved the fantastic result as she won the Hypo event in Austria.
The event was her last competitive heptathlon before the London Games begin in July.
"I knew I was capable of doing it. It was just a case of putting it together on the day," said Ennis.
"It's something that's been at the back of my mind and I wanted to achieve, but I didn't want to put too much pressure on it."
Ennis said she believes losing at the World Championships helped her refocus.
"I've learned from those times," she said. "I learned what I need to do in the long jump, what I needed to do in the javelin. It's been a bit of a learning curve, which is good."