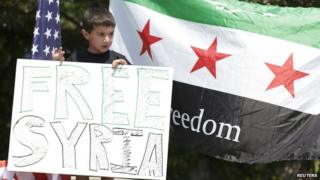 Reuters
Syrian athletes could be banned from competing in this summer's Olympics Games according to the Deputy Prime Minister.
Nick Clegg has said the government will not allow anyone with links to the violence in the Middle Eastern country to take part in the event.
The warning comes after 108 people, including 49 children were killed in an attack on the town of Houla on Friday.
The UN described the bombing of Houla as "outrageous".
At a big meeting last night, all of the UN countries called for the Syrian government to withdraw its heavy weaponry from residential areas.
But, the Syrian Government say they were not responsible for the attack on Houla.
Fighting in Syria has continued despite the 280 UN monitors travelling to the country to try and keep the peace.
In total there's been about a year of fighting between government troops and people who are unhappy with how things are being run.