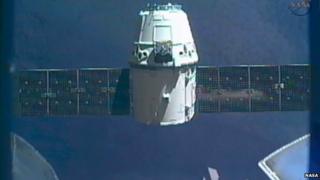 NASA
SpaceX's Dragon capsule has completed its mission to the International Space Station.
The spaceship will now go near enough to the ISS for astronauts on board to use a large robotic arm to connect it to the station.
After it docks the unmanned capsule will be the first private spacecraft to make the journey.
It's carrying half a tonne of food and spare bits of kit for the space laboratory.
Only Russia, Japan and Europe currently have supply ships that can reach the ISS.
The United States retired its space shuttle fleet in 2011 so now longer have any crafts to make the journey.