Gary Barlow thinks tambourine-playing Prince Harry is ready for the next level in music - the triangle!
Harry plays the percussion instrument on the Take That star's Diamond Jubilee song Sing.
"There are many ways of playing a tambourine," Gary explained to Newsround's Ore. "Some people have it, some don't - and he had it."
"I think he's ready to now go to the next level - the triangle."
"So in 10 years' time for the Platinum Jubilee, we're going to upgrade him to the triangle. He's got 10 years now to practise."
Diamond Jubilee concert
But Gary's had much less time to practise for what's going to be one of the biggest ever gigs - the Queen's Diamond Jubilee concert.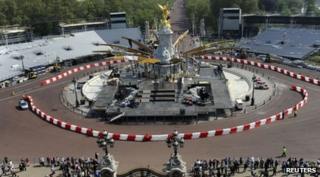 Reuters
Planning started for the extravaganza outside Buckingham Palace on 4 June about two years ago.
The singer told us: "It felt like one of those things that was never going to arrive and I can't believe we're here, like a week away."
He was asked to get involved by people from the royal household, after they saw him perform at a Children In Need concert.
The star-studded line-up includes Jessie J, JLS, Ed Sheeran, Kylie Minogue, Elton John and many more!