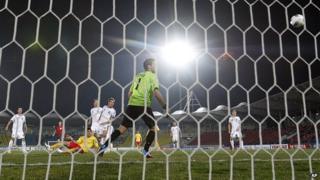 AP
Goal-line technology will be tested at Wembley stadium during England's friendly against Belgium next Saturday.
The system, called Hawk-Eye, uses six cameras in each goal to detect if a ball has crossed the line.
If it has, the system then sends a radio signal to the referee's watch letting him know a goal has been scored.
But match officials won't actually be allowed to use any of the data from the technology during the game.
If the tests go well then the FA and FIFA, the two organisations in charge of the game, are expected to allow the technology to be used by any clubs who want to.
But because of the amount of time that will be needed to get it all up and running it isn't likely to be in place by the start of the 2012-2013 season.
This is the second test of goal-line technology in the UK, Hawk-Eye was used at the Hampshire Senior Cup final in Southampton earlier this month.
Another system called GoalRef is also being tested at Denmark's friendly against Australia in Copenhagen.