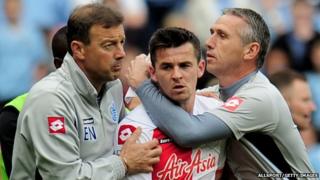 Allsport/getty images
Queens Park Rangers captain Joey Barton has been banned from playing 12 matches by the Football Association.
He's been found guilty on two counts of violent conduct - for kicking Man City's Sergio Aguero and trying to headbutt Vincent Kompany.
Both happened after he was sent off for elbowing Carlos Tevez on the Premier League season's final day.
The FA said that Barton's behaviour "tarnishes the image of football in this country".
Barton has also been fined £75,000.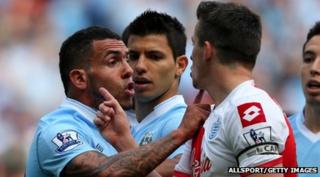 Allsport/getty images
There's now uncertainty over Barton's future. QPR have refused to comment but said there would be an investigation at the club.
Barton's second sending-off of the season meant an automatic four-match ban. He's been handed a further eight-match ban for his clashes with Aguero and Kompany.