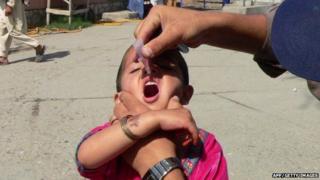 AFP/getty images
The World Health Organisation is launching one final push to wipe out polio for good.
It's set to declare polio a "global health emergency" after an explosion of the devastating disease over the past two years.
Polio is still a big problem in Afghanistan, Pakistan and Nigeria.
But earlier this year India, which has a population of 1.2 billion, became polio free following a massive vaccination campaign.
Polio is an infectious disease that mainly affects young children. It's transmitted via contaminated food and water.
It can lead to sufferers becoming paralysed and, in worst cases, cause death.
It's thought that things like war and a lack of trust in vaccinations have led to fewer children getting the right protection.
No one has caught polio in the UK since 1982.