Kids from four schools have won a competition to cook a special Diamond Jubilee menu for The Queen.
208 schools across the UK took part in the competition set up by the Duchess of Cornwall.
The winners will go to Buckingham Palace in June to see their menus prepared by the Royal chef.
They'll even help serve them at a special dinner party attended by The Queen and The Duchess of Cornwall.
The Royal chef judged the entries by looking at the number of classes the schools had done, how well they used local produce and whether their menus were fit for royalty.
So, what did the winning schools put on their regal menus?
Cape Cornwall School, Cornwall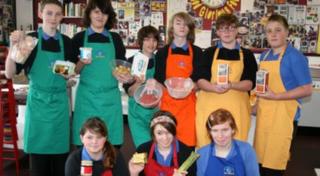 love british food
The school served up Coronation Chicken (see what they did there?) and a pudding with a local twist - Strawberry cheesecake with Cornish gingerbread.
If Her Majesty is still hungry after all that, she can tuck into their Commonwealth Chocolate Mousse.
Latimer Arts College, Kettering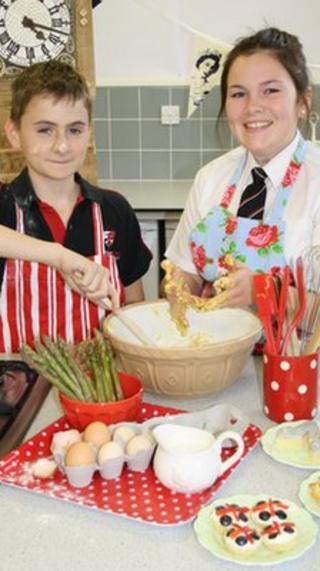 love british food
Their menu sounded really impressive: Dainty Elizabeth for starters - a sage and onion scone in the shape of a bird, with a fanned turkey meat tail, a halved quail's egg and a carved tomato.
For afters they had Golden Carriages - filo pastry carriages, filled with diced apricots, pistachios and honey.
They also had Buckingham Berry Cakes - miniature berry cup cakes with a union flag decoration in fresh berries and cream.
Let's hope The Queen has a sweet tooth!
St Columba's Primary School, Oban in Scotland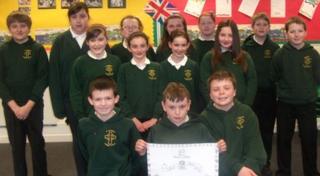 love british food
The kids at St Columba's knew how to pamper a royal - their menu came with after-dinner treats of cream scones with Gaelic coffee and chocolates.
They also designed a pudding to look like a local landmark - the MacCaig's Tower Tablet Cheesecake.
Eastington Primary School, Gloucestershire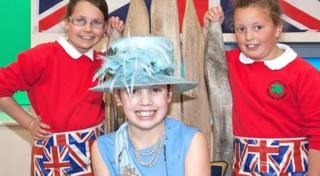 Love British Food
For starters there were Camilla's Cucumber Crowns, filled with salmon. For dessert, Union Jack Pudding - rice pudding layered with raspberries, blueberries, and Gloucester honey.
If that didn't tickle your fancy, how about Luv'lee Jub'lee Bub'lee - elderflower and strawberry soup mixed with champagne!