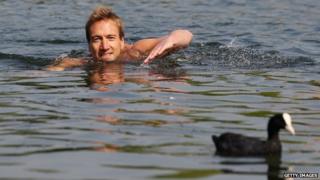 Getty Images
TV presenter Ben Fogle will attempt to swim across the Atlantic Ocean in 100 days next year.
The 38-year-old will have to swim the equivalent of the English Channel every day to complete the charity stunt.
He'll be accompanied by a yacht so he can stop to eat and sleep, but he'll still have to spend 12 hours a day in the water.
The 3,000 mile (4,800km) journey from the US to the UK has only been completed once before.
Ben told BBC News: "I am daunted by the magnitude of this challenge, but I have never been one to take the easy option."
He's already completed amazing challenges like rowing across the Atlantic and racing to the South Pole, where he got frostbite on his nose!
"You get out of life what you put in and the greatest achievements come from the biggest challenges" he said.
He'll be raising money for the charity Centrepoint, which helps young homeless people in the UK.