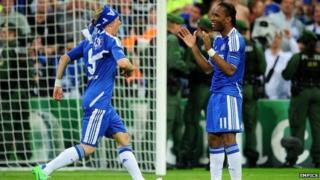 Empics
Didier Drogba thinks Fernando Torres offers a bright future for Chelsea despite his difficult start at Stamford Bridge.
Departing Drogba told BBC Sport, "It's been difficult for him, but he has showed he is the man."
"Next season is going to be his season."
Torres was disappointed to start on the bench in the Champions League final against Bayern Munich.
The same match saw Drogba round off his Chelsea career with the equaliser and then the decisive spot-kick in the penalty shoot-out.
Drogba has won 10 trophies including three Premier League titles with the Stamford Bridge club.
He's sure the Blues will continue to challenge for silverware on a regular basis.
"Players will go, some stay, but the club will remain as ambitious as it has always been. I am not worried."
It's not known where Drogba will go next but he says he'll never forget his time with Chelsea.
"Chelsea is in my heart. My blood is blue and my heart even more so."