If you've ever been unfortunate enough to hear a racist comment at school then you're not alone.
More than 87,000 racist incidents were reported by UK schools in the four years between 2007-11.
Birmingham in the Midlands had the highest number (5,752) in that period, while Carmarthenshire in south-west Wales had just five.
The total number of cases rose for three years but fell in 2010-11 - when schools no longer had to record them.
In some places like Luton and Oldham, reported cases of racism went up. But in a few other places like Newcastle and Stoke, they came down.
Anti-racism campaigners reckon that a lot of racist bullying goes unrecorded because victims are scared to tell someone about it.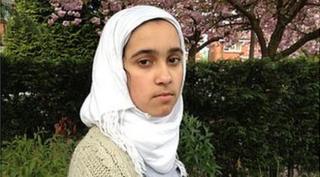 Khadeja, who's 14, has been a victim of racism. Other children used to shout abuse at her.
"I was tormented nearly every day; I was scared to go to school," she says. "It made me feel so low and all my confidence had gone."
"I didn't understand why I was being treated like this. I was the same as the other students, except that I wore a headscarf."
She's now moved to a new school but has to catch up on several months of schoolwork she missed out on.