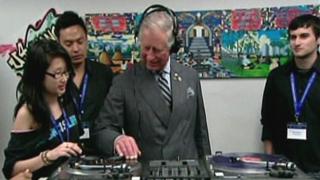 Prince Charles learns how to DJ
Hot on the heels of his spectacular TV weatherman appearance, Prince Charles has been learning how to be a music DJ!
The future king got behind a pair of decks, chucked on some headphones and was shown how to mix and scratch vinyl records.
He was visiting a project in Toronto, Canda, that trains young people in creative skills.
The heir to the throne managed to master some musical handiwork and even got cheers from his instructors!