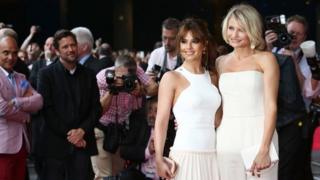 Getty Images
Cheryl Cole may be rubbing shoulders with the likes of Cameron Diaz now, but she has no plans to give up pop for acting.
The singer's making her movie debut in What To Expect When You're Expecting, playing a talent show judge!
She said at Tuesday's premiere she wants to focus on her music career.
"This was actually just something I did for fun," Cheryl explained. "During the course of recording the album, somebody said 'Do you wanna do a cameo?'"
"I mean I'm in it for about two minutes... I really enjoyed my experience... It was me just playing me, doing a role I'm used to."
Cheryl revealed that her big screen appearance was "far less daunting" than doing The X Factor.
"Once you've done live TV nothing can ever be that scary. To be able to take something four or five times is easy-peasy."