It's a historic day in Egypt where people are getting to decide their country's leader for the first time.
Their last president, Hosni Mubarak, stepped down in February 2011 after 30 years in power.
More than 50 million Egyptians are able to vote in the election and there are already queues at polling stations.
The country's army has been in charge since Mubarak went, and there are worries they will try and hold on to power after the election.
There are 12 people hoping to be the new leader, but there's no clear favourite to win.
"It's a very big day," one woman told the BBC. "This is a real great moment for the Egyptians to change."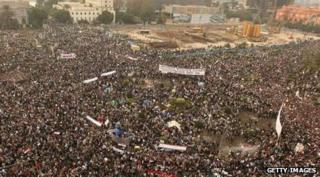 Getty Images
Egypt's revolution
In January 2011, inspired by the uprising in nearby Tunisia earlier that month, huge crowds of Egyptians massed in the capital city Cairo after an internet campaign.
Thousands of protestors chanted slogans and waved banners, calling for change in their country.
There were violent clashes as the police tried to stop people protesting, and the government announced a curfew - an order that means everyone has to be indoors after a certain time of day.
But the people ignored the government and even more demonstrations happened in the main cities of Egypt - Cairo, Alexandria, Suez and Ismailiya.
The violence continued as government supporters clashed with protestors, and hundreds of people were killed.
On 11 February, the 18th day of protests, Egypt's Vice President Omar Suleiman announced on Egyptian TV that President Mubarak was stepping down.
The news was greeted by scenes of huge celebrations in capital city Cairo's Tahrir Square, which had become the heart of the protests.
Thousands of protesters cheered, embraced, waved their flags and honked car horns when they heard Mubarak was finally going.
It was announced that the military would run the country for the time being.