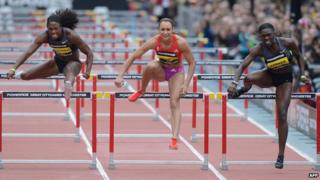 AFP
Jessica Ennis missed out on a new personal best time on Sunday because the wrong number of hurdles had been set up.
Organisers forgot to put in one of the sets hurdles at the Great CityGames in Manchester.
The Team GB heptathlete ran the 100m hurdles in a personal best time of 12.75 seconds - but it can't be counted because of the mistake.
Ennis said she was annoyed at the "massive, massive mess-up".
Nova International, the people in charge of setting up the event, said they were looking into how the mistake happened.
They said that "it's a very unfortunate mistake, we're very unhappy about it".
Sprinter Dwain Chambers also took part in the games, finishing second in the 150m race.
It was his first race since he found out he can be selected for Team GB after they changed their rules about including athletes who've served drug bans.