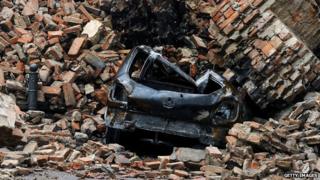 Getty Images
Thousands of people have been left homeless after a power earthquake struck in the north of Italy.
The magnitude six tremor hit the city of Bologna on Sunday damaging churches and a medieval castle.
So far seven people are thought to have died after the buildings they were working in collapsed.
Hundreds of people in one town had to spend the night in tents on the local football pitch after their homes were destroyed.
Tremors were felt nearly 100 miles away in Milan and Venice.
Earthquakes are quite common in the north of Italy.
But it was the worst one to hit Italy since the L'Aquila earthquake in 2009 which killed 300 people.