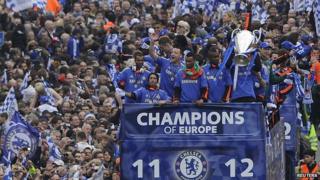 Reuters
Chelsea have been celebrating after winning the Champions League for the first time on Saturday.
Thomas Mueller's late header put Bayern Munich on the brink of victory but Didier Drogba levelled things up to 1-1 forcing the game to go to penalties.
Drogba shined again in the penalty shoot-out by scoring the winning goal taking his side to a 4-3 lead - and the trophy.
On Sunday the Blues went on an open bus victory tour of in London.
Despite bringing home the FA cup and now the Champions League trophy temporary boss Robert Di Matteo's job at the club still isn't safe.
Winning goal scorer Didier Drogba's place is also uncertain - he's set to go into contract talks with the club later this week.
Chelsea are the first London side to win the European competition and a only the second team to win the FA cup and Champions League in the same season.