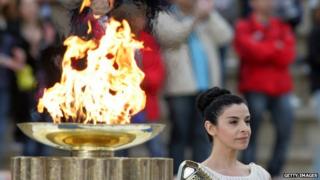 Getty Images
The Olympic Flame's journey to Britain began with a flight from Athens International Airport.
It flew in its own pair of seats, 1A and 1B, on board a gold-painted British Airways plane from Greece to the UK.
The plane, called Firefly, was also carrying famous people including The Princess Royal, Lord Coe, and David Beckham.
Its destination -Royal Navy airbase at Culdrose in Cornwall!
How does the flame fly?
Because the flame is described as "dangerous goods", there are rules about how it's carried on the plane.
The flame goes in four lanterns which sit in two specially-made metal cradles, secured to the chair by a seatbelt and a Velcro strap.
Next to it in seat 1C sits a fire warden - a Metropolitan Police officer trained in firefighting - who keeps an eye on the flame for the entire 1,500-mile flight.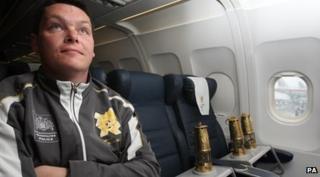 PA
David Thomas, the pilot, did a 'rehearsal flight' from London to Cornwall with a pretend flame, which wasn't lit.
He said: "It's slightly unusual to be playing with fire on an aeroplane."