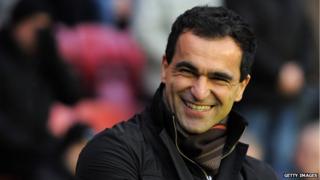 Getty Images
Wigan boss Roberto Martinez has been given permission to talk to Liverpool about being their new manager.
Liverpool have also made contact with Andre Villas Boas, but he's now thought to be less likely to get the job.
Swansea's boss Brendan Rodgers also on the list, but he has turned down the offer to speak to Liverpool.
The owner of Wigan, Dave Whelan said "Liverpool rang us and asked for permission to speak to Roberto, which I've given."
He addeed: "I was working with Roberto when I got the message. I told him there and then and asked if he wanted to speak to Liverpool and he said 'yes'."
Martinez's career as a manager so far
•February 2007: Appointed Swansea manager
•May 2008: Leads Swans to League One title
•May 2009: Swansea finish eighth in the Championship
•June 2009: Signs three-year deal with Wigan following Steve Bruce's departure for Sunderland
•May 2010: Guides Wigan to 16th in first full season in charge
•May 2011: A final-day victory over Stoke secures Premier League survival in dramatic style
•June 2011: Chooses to stay with Wigan rather than enter talks over Aston Villa vacancy
•March 2012: Chairman Dave Whelan assures Martinez his job is safe despite a run of one win in 12 which leaves them bottom of the Premier League
•May 2012: Wigan win seven of their last nine games to surge out of the relegation zone and guarantee Premier League status with game to spare.
Have a look at Newsround's predictions in Who next for Liverpool?