Prince Harry plays tambourine on the song by Gary Barlow and Andrew Lloyd Webber for the Queen's Diamond Jubilee.
The track is being played to the public for the first time on Friday.
As well as Prince Harry on tambourine, the song, called Sing, features musicians from across the Commonwealth and the famous Military Wives choir.
The Prince recorded his part in Jamaica when Barlow was also in the country.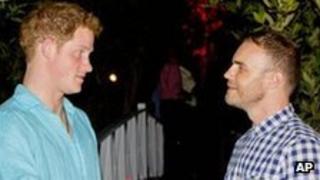 AP
The video for the track will be first shown in full on The One Show on BBC One on Friday evening.
Asked if Prince Harry had shown any musical talent, Gary just said: "No."
"He did the tambourine hit and we spun it into the track," the X Factor judge explained.
Gary said the idea for recording the song around the world had partly come from Prince Harry's dad, Prince Charles.
He added: "In my chat with him he said 'If you really want the Queen to like this, find people; go and travel and find people'."