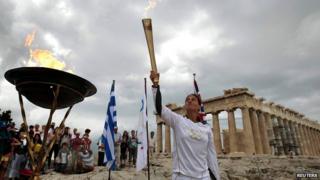 Reuters
The Olympic flame has been officially handed over to the UK ahead of this summer's London Games.
In a special ceremony in Greece, home of the ancient games, the flame has been handed to the Queen's daughter, Princess Anne.
David Beckham, Sebastian Coe and London's Mayor Boris Johnson were also there.
They'll bring the flame back to the UK where on Saturday it will leave Cornwall on a tour around the country.
After 70 days of relay around Britain, the flame will arrive in East London at the opening ceremony of the the 2012 Olympics.