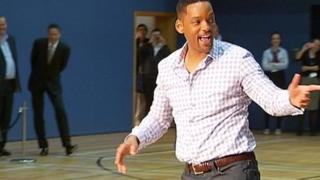 Will Smith tries out Olympic sports with Team GB
Movie star Will Smith has got Olympic fever and has been trying his hand at different sports with Team GB.
The actor has been in London promoting his new film Men In Black 3. But he couldn't come to the country of the 2012 Games without heading to the gym.
He showed off his skills, or should that be lack of skills, in the triple jump, hurdles, basketball and boxing.
And he found it tough, saying: "That stuff is a lot harder than it looks on TV."