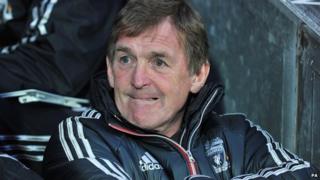 PA
Why has Kenny Dalglish been sacked by Liverpool? Here's why the club's owners decided it was time for him to go:
1. LEAGUE FORM
Liverpool only won five of their 18 home games in the Premier League this season, the fewest wins in more than 50 years at Anfield. For a club that prides itself on winning that was never going to be good enough.
2. THE SUAREZ INCIDENT
Dalglish's handling of the Luis Suarez incident led to widespread criticism of him. Suarez was found guilty of racially abusing Man United star Patrice Evra by an independent panel but Dalglish refused to accept the decision. He complained about Suarez's eight game ban and wore a t-shirt in support of the Uruguayan striker before one game. After Suarez returned he refused to shake Evra's hand before a game at Old Trafford but even then Dalglish refused to criticise him. He was then forced to apologise for his and Suarez's behaviour by the club's owners. Was this the beginning of the end of the relationship?
3. HIS SIGNINGS
Dalglish spent £35 million on Andy Carroll, £20 million on Jordan Henderson and £8 million on Charlie Adam, none of whom really performed in the Premier League. Even £5 million left back Jose Enrique's form dipped towards the end of the season and £22 million striker Suarez missed a third of the season through suspension.
4. FINISHING BELOW EVERTON
It was worrying enough for Liverpool fans that they were 40 points behind bitter rivals Manchester United in the league. But things were made even worse when they ended up finishing below local rivals Everton for the first time in seven years. The Reds league form was so poor they actually finished level on points with Fulham in 8th.
5. HIS AGE
Dalglish was brought in at the last minute after Roy Hodgson was sacked as Liverpool boss in 2011. Their plan at the time was for Dalglish to see out the season and to then replace him with a younger manager who could start a new project at the club. But Dalglish did so well in his six months in charge they decided to keep him on for another year. With results going against him the owners quickly started to think a young manager like Wigan's Roberto Martinez, Swansea's Brendan Rodgers or Jurgen Klopp of German side Borussia Dortmund might be a better option.