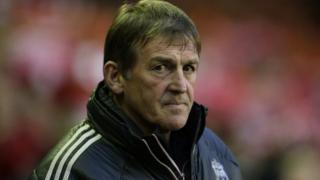 AP
Kenny Dalglish has lost his job as Liverpool manager after a meeting with the club's owners.
The decision was announced on Wednesday afternoon following a difficult season at Anfield for the Scot.
He was heavily criticised for his handling of the situation when Luis Suarez was accused of racially abusing Man United star Patrice Evra.
Many of his big name signings also failed to perform, but he did secure Liverpool's first trophy in six years.
Liverpool beat Cardiff after penalties to win the Carling Cup in February.
But they lost the FA Cup Final to Chelsea in May and suffered the worst run of league results at Anfield for over 50 years.
Owner John Henry praised Dalglish for his place in Liverpool's history but said it was time to start looking for a new manager. He said: "Kenny will always be more than a championship winning manager, more than a championship winning star player. He is in many ways the heart and soul of the club.
"He has always put the Club and its supporters first. Kenny will always be a part of the family at Anfield.
"Our job now is to identify and recruit the right person to take this Club forward and build on the strong foundations put in place during the last 18 months."
It's the second time Dalglish has left the manager's job at Liverpool.
He resigned in 1991 after guiding the club to three league titles and two FA Cups in five years.
The Liverpool job was his first in football in more than 10 years when he stepped in to take over from Roy Hodgson mid-way through the 2010-11 season.
He's one of a select bunch of managers to have won the league with more than one club, having helped Blackburn to the title in 1995.
But his magic touch deserted during his second spell at Liverpool and the club will now start looking for their third manager in two years.