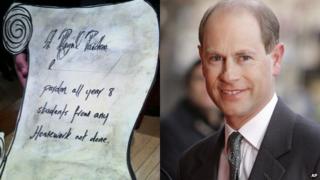 AP
A cheeky student wanted to get out of doing his homework so much, he asked a prince to let him off.
It all happened whilst Prince Edward, the Queen's youngest son, was visiting a school in Belfast.
Pupil Michael thought it was a great chance to ask for a "royal pardon" to get all Year 8 students off any homework they hadn't done.
He got the idea from his history lessons and his classmates thought it was a good plan.
He said: "I started sort of talking to my class about it and they said 'yes really do it' and then they sort of pushed me along to it and I said 'yes I'll do it'."
Michael then asked Prince Edward to sign the pardon he'd written.
"He said this is absolutely great - he was very enthusiastic and he said 'very tempting, good idea'," said Michael.
But unfortunately the prince said the head teacher wouldn't be very happy if he signed, so Year 8 still have to do their homework!