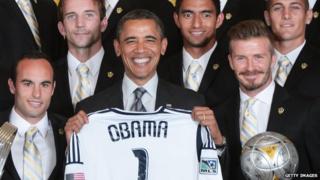 Becks and Obama at White House
David Beckham has played football with US President Barack Obama on the famous White House lawn.
Ex-England captain Becks and his LA Galaxy team mates visited the US president's home in Washington DC on Tuesday night.
They were invited for a tour after winning the American Major League Soccer championship earlier this year.
President Obama gave David a special mention, describing him in a joke as a "young up and comer"!