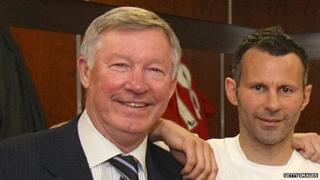 Getty Images
Manchester United's Ryan Giggs has been named the greatest footballer in Premier League history.
The veteran midfielder was given the prize at special awards to mark 20 years since the Premier League began.
His manager Sir Alex Ferguson was named the greatest manager ever.
He's won the Premier League 12 times as United boss, the same number Giggs has won as a player.
Wayne Rooney won the best goal gong.
The Premier League 20 Seasons Awards honour the players, managers and football that has taken place over the two decades.
Welshman Giggs has played, and scored, in all 20 seasons since the Premier League started back in 1992-93.
He was voted PFA Player of the Year in 2009 and also won the BBC's Sports Personality of the Year award the same year.