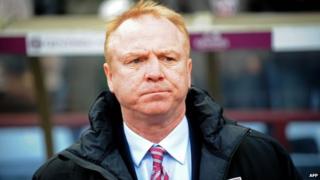 AFP
Aston Villa have sacked manager Alex McLeish after just 11 months in charge.
The 53-year-old former Scotland manager said his farewells to the club's staff on Monday morning.
Villa had a terrible Premier League season, finishing just above the relegation zone after winning just four of 19 games at home.
The Villa fans weren't happy about McLeish as he arrived from Birmingham City last year. Bad results and performances didn't make it any better.
The club put out a statement that said: "Aston Villa can confirm that Alex McLeish's contract has been terminated with immediate effect.
It went on to say that the club was "disappointed with this season's results" and they would "strive to deliver" more.
Villa chairman Randy Lerner said: "Compelling play and results that instil a sense of confidence that Villa is on the right track have been plainly absent.
"The most immediate action that we can take is to look carefully at our options in terms of bringing in a new manager who sees the club's potential and embraces our collective expectations."
The early favourite for the job is Norwich boss Paul Lambert, but they've said they'll "fight" to keep him at Carrow Road.